There's a reason why "Yellowstone" feels as authentic as it does. For all the backstabbing, fistfights, and unchecked greed on display that make the show seem so outlandish at times, the countless scenes showing everyday life on a fully functioning Montana cattle ranch are meticulously researched and crafted. There is some true cowboying on display and all of the actors have had to endure an outdoor boot camp before the start of each season. There are even a few real-life cowboys featured throughout the series, including actor and "Yellowstone" creator Taylor Sheridan who plays the recurring role of rodeo rider and horse trader Travis Wheatley. Actor Forrie J. Smith, who plays the handlebar mustache-sporting old-timer Lloyd Pierce, also grew up competing in rodeos before trying his hand at stunt work and horse wrangling for the movies.
There are also actors like Buck Taylor who effortlessly make the cowboy way of life look utterly convincing without having lived that life themselves. For five seasons, Taylor played Emmett Walsh on "Yellowstone," appearing sporadically as a longtime ally of John Dutton (Kevin Costner) who also serves as the chairman of the Stock Growers Association. In a world that's turned against John Dutton and his family, Emmett became a trusted friend when they needed it the most. Although he was never tangled up in the web of political intrigue and corporate espionage that the Duttons were forced to navigate, the character Emmett Walsh began to take on a more mythic quality in the season 5 episode "Cigarettes, Whiskey, a Meadow and You." What he winds up representing makes the peaceful death (a rarity in "Yellowstone") he enjoys suddenly have a tinge of tragedy.
The Cowboy's Lament
Thus far, Walsh has appeared in the premiere episode of "Yellowstone" and one of the very last episodes up to this point. His character has book-ended the series in a way, lending a lot more credence to the idea that his presence throughout the show may have a deeper meaning. On the surface, Emmett expires doing what he loves and dies peacefully in his sleep during the annual Dutton cattle drive. He's survived by his loving wife surrounded by the very cowboys he's ridden with for years and tried to help protect along the way.
An aging, ponderous John Dutton remarks "He just died on the trail, like every cowboy dreams it." On the surface, that may seem a little too mired in sentimentality, but Costner delivers the line with a healthy amount of pathos suggesting that he's saying goodbye to a lot more than just a lifelong friend. The passing of Emmett Walsh represents another lost link with the past and a respect for tradition that's becoming more and more outdated with each passing season. The Duttons put family first, but that's only because they might be the only people who have the power to stop the cowboy way of life from dying out altogether in Montana. And they're willing to risk everything for it.
With all of the murderous mayhem and continual chaos swirling around him, John Dutton may also be thinking that he might not live long enough to enjoy the same peaceful death that Emmet did under the stars with his hat on his chest.
An actor's life on the range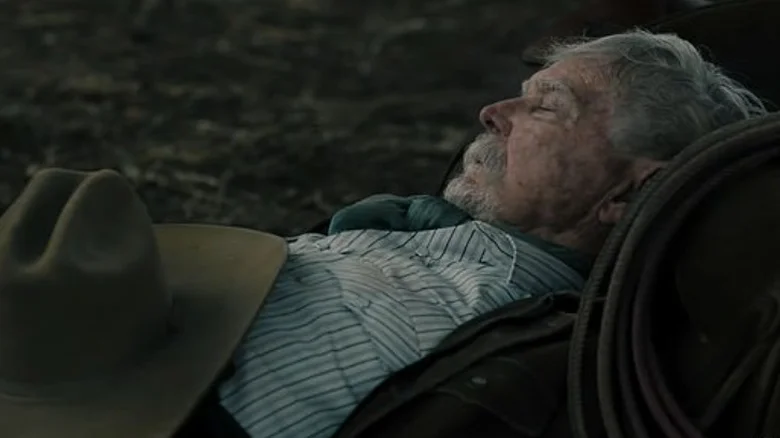 Emmet Walsh's death in "Yellowstone" season 5 episode 6, may also be the last time audiences ever see veteran actor Buck Taylor donning spurs and a 10-gallon hat. Although Taylor and Sheridan likely first met on "Hell or High Water" (also starring "Yellowstone" regular Gil Birmingham), that's probably not the only reason Taylor landed the role.
Taylor began his career playing Newly O'Brien in 173 episodes of "Gunsmoke" from 1967 to 1975. Together with actors Jim Arness and Milburn Stone, Taylor helped define the cowboy mythos for a generation. That kind of cachet led to countless film roles in Westerns, and Taylor would later appear as part of Wyatt Earp's posse in "Tombstone" alongside Val Kilmer, "Wild Wild West" with Kevin Kline, and "Cowboys & Aliens" next to Harrison Ford (who was also a guest star on "Gunsmoke").
So, featuring Taylor on "Yellowstone" was no accident. "Gunsmoke" was television's first smash hit series about the Old West, and "Yellowstone" just might be its last. Walsh's death in season 5 might mean something more to John Dutton, and it may also mean a lot more to Sheridan as well. It may be Sheridan's attempt to resurrect the Western as we know it, in the same way that Clint Eastwood revived the genre with "Unforgiven."