One of the most interesting celebrities birthed in Hollywood is Clint Eastwood. Known for his grit and charisma both on and off-screen, he gained fame through his roles in classic Westerns and as a revered director and he has refused to retire from acting despite his age. Off the screen, Eastwood's charm was not lost, attracting many women into his life and, as a result, earning him a reputation as a reputed womanizer.
Despite being well-known, Eastwood has never been open about his personal affairs, especially when it comes to his kids. He has avoided directly answering the question of how many children he has, which has added to the mystery surrounding him and fuels ongoing rumours and interest. Is it possible that Clint Eastwood has more children than is known to the public?
How Many Children Does Clint Eastwood Have?
According to People, Clint Eastwood, the famous actor, and director, is a dad to eight kids. His children include six girls and two boys. The kids were born over a span of many years, from 1954 to 1996. They have different mothers, making the family even more diverse.
The eldest, Laurie Murray, born in 1954, was first given up for adoption but later reconciled with her father. Then Kimber Lynn Eastwood was born in 1964 to Roxanne Tunis. Next in line is Kyle Eastwood, who was born in 1968 to Maggie Johnson. Kyle's sister, Alison Eastwood, was born in 1972 and shares the same mother as Kyle.
The children Eastwood had with Jacelyn Reeves are Scott Eastwood and Kathryn Eastwood, who were born in 1986 and 1988, respectively. Francesca Eastwood, born in 1993, is the daughter of Frances Fisher.
Finally, the youngest child in the Eastwood family is Morgan Eastwood. She was born in 1996 to Dina Eastwood. So, it's safe to say that Clint Eastwood has quite a large and unique family.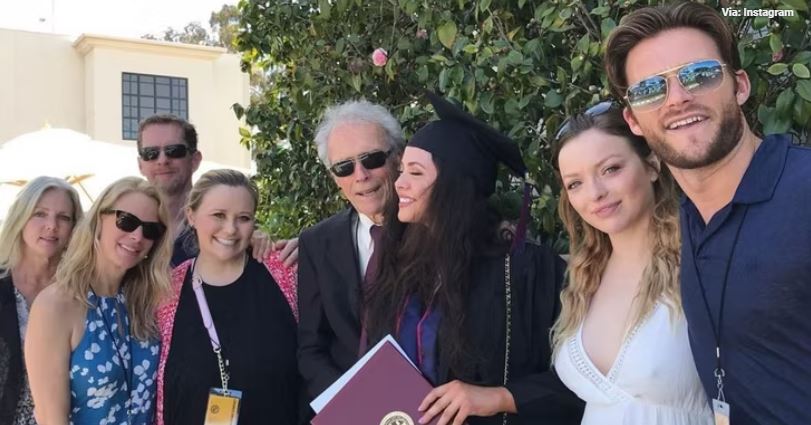 Does Clint Eastwood Get Along With His Children?
Clint Eastwood is known to have a good relationship with all eight of his children. He's supported their dreams and acted as a father figure to them. Kimber Lynn, one of his daughters, has acted in several films, including some of Eastwood's movies.
Kimber Lynn's brother, Kyle, has also appeared in a few of Clint Eastwood's movies and shares a mutual interest in music too. According to Kyle, Eastwood loves his music and supports his passion for it. Alison, another one of Eastwood's daughters, has said that her father is not one for many words but taught her a lot by letting her observe his work.
Meanwhile, Eastwood's son Scott grew up visiting his father's movie sets and learned the importance of hard work from him. Scott also mentioned that his father encouraged him to stay fit from a young age.
Eastwood himself admitted he was a better dad to his youngest daughter, Morgan, who he raised with his ex-wife, Dina Eastwood. Despite being older than most of the other parents, he prioritizes her above all else and enjoys spending time at her softball games.
In 2018, Alison, Kyle, and Scott accompanied their father to the premiere of his film, The Mule. It's clear that despite his busy schedule and large family, Clint Eastwood makes out time to be in his children's lives and maintains a close relationship with them.
Why Has Clint Eastwood Refused To Confirm The Number Of Children He Has?
Clint Eastwood has never publicly explained why he won't say exactly how many children he has. Whenever he's asked about it, according to sources like Meaw, he always keeps his answer private and doesn't want to discuss it openly. Speculations can only be made about why he prefers to keep this information to himself.
Although, there's a bit of uncertainty surrounding the question of weather Eastwood has any other children apart from the eight that are commonly acknowledged. Some claims suggest that there might be more to the story.
A website started by Eastwood's cousin Steve in 2006, which is no longer active mentioned another child named Lesly, born to Rosina Mary Glen on February 13, 1959.
Patrick McGilligan, who appeared in the 2012 French documentary "L'album secret de Clint Eastwood", also suggested the possibility of other children. He stated on-camera, "We don't know how many children Clint has had with how many women." He even talked about rumours of a child from Eastwood's high school days.
However, it's important to note that these claims are not confirmed. There could be many reasons for his decision to remain silent on this issue. Maybe he wants to protect his children's privacy, or maybe he just likes to keep his personal life out of the public eye. But until Eastwood gives an explanation, no one can say why he won't confirm the exact number of his children.
How Many Times Has Clint Eastwood Been Married?
According to Country Thang Daily, Clint Eastwood has been officially married twice in his life. His first wife was Maggie Johnson; they met in 1953 on a blind date. They got married two months later in Pasadena. Together, they had two children: Kyle Eastwood and Alison Eastwood.
Eastwood's second wife was Dina Ruiz, a TV anchor who he first met during an interview in 1993. The pair's relationship came under public scrutiny in 1995 when they were seen together at golf tournaments. However, they silenced the rumours by announcing their engagement in January 1996. They were married two months later in Las Vegas and welcomed their daughter, Morgan, by the end of the year.
Even though Eastwood was only officially married twice, he had numerous relationships and affairs over the years. Some of the women he was involved with include Roxanne Tunis, Sondra Locke, Jacelyn Reeves, and Frances Fisher.
In addition to these relationships, he also had flings with several actresses, including Mamie Van Doren, Jean Seberg, and Jo Ann Harris. He also had relationships with singer Keely Smith, columnist Bridget Byrne, and socialite Joan Lundberg Hitchcock.
After his marriage ended, Eastwood was linked with other women, including Barbara Streisand, Marisa Berenson, and Barbara Minty. Currently, he is reported to be with restaurant hostess Christina Sandera.
Clint Eastwood's reluctance to confirm his precise number of children remains a puzzle to many. Despite this ambiguity, one fact remains clear: Eastwood loves and supports his children wholeheartedly.
His commitment as a father is evident in his close relationships with his children. Whether Eastwood decides to share more about his family in the future or continues to maintain his privacy, his role as a devoted father is a testament to his character off the screen.